Gratitude lifts our eyes off the things we lack so we might see the blessings we possess.
~ Max Lucado
I love this quote! Sometimes we get so busy thinking about what we don't have that we fail to notice what we do have.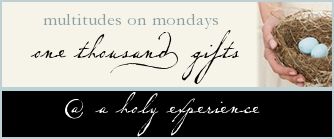 Today I want to continue counting my blessings by participating in Multitudes on Monday at
A Holy Experience.
30. Entering the presence of a Holy God through the blood of Jesus
31. Birthday parties for friends and family
32. Good-byes and new beginnings
33. Days where my patience is tested but my attitude remains the same due to the Holy Spirit
34. The opportunity to lead worship again
35. The return of the sun - oh, how I have missed you!
36. My awesome group of Bible study girls who have become my dear friends
37. A new mixer to make more yummy cookies
38. Long talks with my daughter
39. Laundry waiting to be folded
40. Watching God develop people in new ministries.
41. Manna for today
What's on your list ?